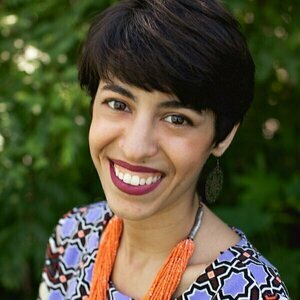 Ashley Shabankareh
Special guest
Ashley Shabankareh (she/they) is a musician, music educator, arts administrator, and music education and creative economy advocate. Ashley received her M.M. and B.M.E. from Loyola University, New Orleans, with a concentration on conducting and brass instruments. Ashley is a certified K-12 music educator and spent her early years in New Orleans teaching PK4 through 8th grade students. She transitioned from full-time music instruction to assist in the creation of the curriculum and program guidelines for the Tulane University Music Rising Program. In addition, for 13 years, Ashley previously served as the Director of Programs for Preservation Hall Foundation, working with culture bearers and serving over 35,000 per year in programming in schools, detention centers, and community centers. In 2016, she was named a Top Female Achiever by New Orleans Magazine, a New Orleans Hero by the Times-Picayune, and a Woman of the Year by New Orleans City Business. In 2017, Ashley was named a Top Millennial in Music by the Spears Group and I Heart Media.
Today, Ashley currently serves as the Director of Operations and Programs for the Trombone Shorty Foundation. In addition to their work with Trombone Shorty Foundation, Ashley is the Collaborative Action Strategist for Artist Corps New Orleans, Director of Learning for Upbeat Academy Foundation, and the Education Specialist for the New Orleans Jazz Museum. In addition to their work in the New Orleans community, Ashley serves as the Vice President for the Jazz Education Network, Board Member for the Folk Alliance International, Board Chair for the Music and Culture Coalition of New Orleans (MaCCNO), Board Member for Feed the Second Line, and Board Member for Elan Academy Charter School. Ashley is a proud member of the Jazz Education Network and NAfME.
Ashley is an avid performer and performs as both a trombonist and vocalist. Ashley has performed alongside notable musicians including Aretha Franklin, Allen Toussaint, Theresa Andersson, Big Sam's Funky Nation, the Preservation Hall Jazz Band, and in her own projects, Marina Orchestra and the Asylum Chorus. As of 2021, Ashley is a member of the Recording Academy.
Ashley Shabankareh has been a guest on 1 episode.
August 9th, 2021 | 1 hr 21 mins

classical singing, community-building, money, music business, networking

In advance of our New Music Gathering 2021 panel on Money Mindset, I've invited my friends and colleagues to do a Masterclass episode where we talk about all things money mindset. Allyssa Jones, Ashley Shabankareh, and Sara Noble shared tons of tips, tools, and insights inside this episode. I hope you'll listen and share widely!